2018/01/21 07:33:45 id:993160329, genre_id=6007 , Productivity, CCBot/2.0 (http://commoncrawl.org/faq/)

2018年01月21日更新
Bloop S.R.L


開発元:

Bloop S.R.L.




1.7.9




iOS10.0

平均評価:

3


リリース日:

2016年02月01日



もっとレビューをみる
1. 細かいバグをとって欲しい (v1.7.9)

りおら

2018年1月12日

定期的に問題を報告してるが、数ヶ月前からついに無視されるようになってしまった。
デスクトップ版でも発生していた、2つのメールが一つに合体してしまう問題もiOS版でも発生。
使えるのは使えるが、まだまだ難あり。

これまで何回もバグ修正と謳ってバージョンアップしてるが、1年以上前からの問題が未だに解決されていない。
もしかしてもう開発止まってる?

2. ​ A sophisticated and excellent Mail application. (v1.7.9)

❤大天使 ミカエル❤

2017年12月18日

It is a good application as good as a Mail application called Spark.
Even if there is something I do not understand, support was carefully done politely.
Thank you very much Sarah.

Please make it possible to choose the ring tone setting for each account from the ring tone inside the iPhone.

3. 機能満載 (v1.7.7)

hikari0801

2017年12月11日

Gmailのラベル機能はそのまま使える(ラベルの適用、削除、新規、同期などは全部できる)。スレッド(複数のメールを一つの会話にまとめる)はオン・オフできる。プッシュも問題ない。Gmailのアプリより使い勝手がはるかに良いと思う。

4. ずっと (v1.7.3)

けいけい( ´ ▽ ` )

2017年10月24日

アーカイブ動作時にブルーに着色される箇所が乱れる場合がありますが、もうずっと改善されません。

5. カクカク (v1.7)

yuzuatsupapa

2017年9月24日

6sでiOS11に上げたら動きがカクカクです…

6. デザインに難あり (v1.6.9)

トライ•アンド•エラー

2017年8月21日

添付ファイルが一番下に来るというのはスレッドが長い場合は非常に困る
空メールと表示されるのに他のメーラ(SPARK)ではしっかりと表示されることがある(表示の仕方をかえるオプションでもつけた方がよくないだろうか)

バッヂ表示などSPARKも問題を抱えているのでこちらにマイグレしたが、ちょっと使えないな〜、困ったものです

7. Japanese font... (v1.6.9)

zooey0

2017年8月16日

Used font when showing email written in Japanese is Chinese font... it might look similar for non native but there are significant differences. Please use correct font.

8. 良いですね (v1.6.9)

dra777

2017年7月28日

非常に洗練されたデザインと、高いカスタマイズ性とを兼ね備えたメーラーです。

Gmailのプッシュ通知が可能で、複数アカウントを扱えるので、標準のメールアプリと置き換えました。

9. Helpful mailing tool (v1.6.4)

インテリア・パパ

2017年7月23日

Various accounts can be handled easily and smoothly via Airmail.
Moreover, their support team is great (quick and precise). Thank you Stevens!

10. Miles ahead of the stock and other mail apps (v1.6.4)

imjms737

2017年6月29日

As a long time user of the Mac Airmail app, I've been wanting to give the iOS version a go.

Suffice it to say, it has not let me down.
The syncing of settings between the iOS version and the Mac version is quite useful, and the amount of customization and 3rd party app integration will make any power-user happy.

Among the stock app, Spark, Airmail. and Outlook, I'd say Airmail comes out at the top.
もっとレビューをみる
★ このアプリをクリッピングする ★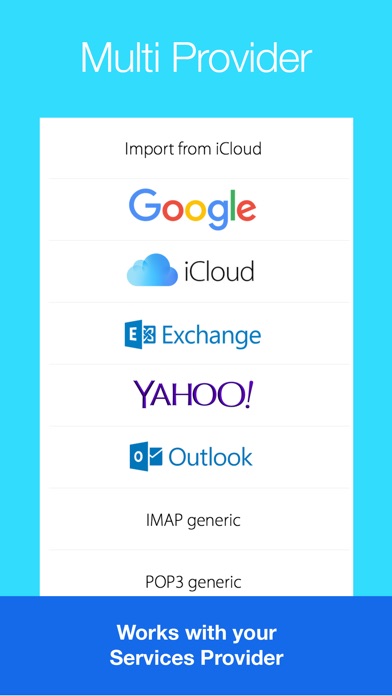 Airmail is a powerful mail client for Mac, now available for iPhone and iPad.

Designed for the latest generation iOS, it supports 3D Touch, fast document previewing, high quality PDF creation, and native integration with other apps and services for a frictionless workflow.

Workflow customization is at the core, with a rich feature set like snooze, interactive push notifications, and full inbox sync.

iCloud sync provides a fully ubiquitous experience so that all your accounts and app preferences are synced.

BASIC
- Support for Gmail, Exchange EWS, IMAP and POP3
- Push notifications, with VIP, custom actions, full body preview and custom sounds
- Apple Watch app with glance and interactive notifications
- Customizable swipes
- Threads and single messages
- Snooze messages
- Bulk editing
- iCloud sync between Mac and iOS
- Drafts
- Aliases
- Multiple signatures
- Unified inbox
- Horizontal layout
- 19 languages

ADVANCED
- 3D Touch quick access
- 3D Touch Peek and Pop
- Spotlight search for documents and messages
- Share composer extension
- iCloud sync for labels, preferences and accounts across Mac and iOS
- Handoff between Mac and iOS
- Notifcation Based on Locations
**** "Continued use of GPS running in the background can dramatically decrease battery life."

SEARCH AND FILTERS
- Online search
- Filter by Unread, Starred, Conversation, Today and Smart
- Quick access to the messages of one sender
- Quick per account single folder access

LABELS AND FOLDERS
- Full label access
- Per single labels sync
- Quick access to recent labels
- Favorite labels
- Full label creation and editing
- Document view with rich preview
- Unread, Today, Conversations and Contacts

COMPOSER
- HTML rich composer
- Attachment resizing
- Document import from Dropbox, Google Drive and much more
- Signature swipes
- Composer extension
- Online drafts
- Send and Archive

OPERATIONS
- Undo actions
- Move mail between accounts
- Multiple signature
- Operations view
- Attachments view
- Contacts view
- Mark as unread on open

CONTACTS
- VIP
- Google Directory Search
- Exchange Global Address List
- Contacts Group messages
- Auto CC/BCC

VISUAL
- Profile icons
- Highlight subject
- Account icons
- Account colors
- Preview message lines
- Remote images

ACTIONS
- Archive
- Trash
- Snooze defer messages
- Move and Labels
- Mark as Unread
- Mark as Starred
- Mark as Spam
- To Do, Memo, Done
- Send to Calendar
- Send to iOS Extension
- Create a searchable PDF
- Print
- Bounce
- Redirect
- Transfer to a different account
- Universal link Mac/iOS
- Add to sender to VIP
- Empty Trash and Spam
- Mark entire mailbox as read
- Archive all messages

INTEGRATIONS

Attachments:
- Google Drive
- Droplr
- Box.com
- OneDrive
- Dropbox

Open Links in:
- Safari
- Chrome
- Firefox
- iCab
- Mercury
- Safari in-app

Send to Apps and Service:
- Calendars Invites
- Apple Calendar
- Apple Reminder
- Omnifocus
- Todoist
- Wunderlist
- Fantastical 2
- 2DO
- Trello
- Clear
- Evernote
- Appigo Todo
- The Hit List
- Things
- Task
- Editorial
- Draft 4
- iA Writer
- Code Hub
- Things
- 1Writer
- Delivery
- Github
- Swipes
- Pocket
- DevonThink


- Business
Airmail is also available on Apple B2B store with MDM and AppConfig support, please contact us for more info.

URL Scheme:
airmail://compose?subject=[subject]&from=[from]&to=[to]&cc=[cc]&bcc=[bcc]&plainBody=[plainBody]&htmlBody=[htmlBody]

airmail://compose?subject=Message%20subject&to=joe%40example.com&ann%40example.com&plainBody=Message%20body

Airmail does NOT store your messages on our servers.
Server processing is very limited and performed only if users enable push notifications.

Thanks to all the testers on the Slack group that have been involved in the development!