2018/01/17 02:01:38 id:961390574, genre_id=6001 , Weather, CCBot/2.0 (http://commoncrawl.org/faq/)

2018年01月17日更新
Grailr LLC


開発元:

Grailr LLC




4.4




iOS10.0

平均評価:

4.5


リリース日:

2015年03月19日



もっとレビューをみる
1. I am expecting it in the future (v4.4)

夜州宗

2017年12月28日

This application is awesome in design but I'm Japanese and I'm not sure what they are talking about, so I'm happy to correspond to Japanese

2. うるさいヤツ (v4.2.2)

Sanbongi

2017年11月20日

英語にしか対応してないけど、デザインはオシャレだし開く度に音声(英語)付きの皮肉なジョークを飛ばす機能やAR機能が付いてる憎めないヤツだよ

3. なんかめっちゃおしゃれ (v4.1)

亀山の頭

2017年9月15日

めっちゃおしゃれ(語彙力不足)
日本語対応待ってます!

Thats nice.
add Japanez lang pls....

4. Changes (v4.0)

t_yeen

2017年7月22日

For me, this "redesign" brings a lot of distractions.

5. 改悪されてしまったね! (v4.0)

iphone 6sss plusss

2017年7月20日

昔の方がいい

6. Always wrong weather Data (v3.1)

Hermes

2017年1月19日

Does not work well in Japan. Also once you buy the app they ask you to pay extra money for iwatch and it's per year subscription. Total waste of money for an app that simply does not work as advertised.

7. Weather for adults (v3.1)

TokyoRuss

2016年11月27日

Very nicely done. Sophisticated humor, clean interface. A bit sassy as well.
Irreverent, irascible, yet cuddly.

8. Fairly accurate, hilarious (v2.5)

WunderBliss

2016年7月22日

It often tells me it's pouring when there isn't a cloud in the sky, but it's hilarious, and more often right than wrong, so it's definitely worth it.

9. Hard Work (v2.2)

lansorep

2016年4月25日

A lot of hard work has been put in this app. It is a very interesting take on weather! Highly customizable complications! Recommended!

10. Weather with a kick of attitude (v2.2)

kojaxs

2016年3月5日

Checking weather has never been so fun.
もっとレビューをみる
★ このアプリをクリッピングする ★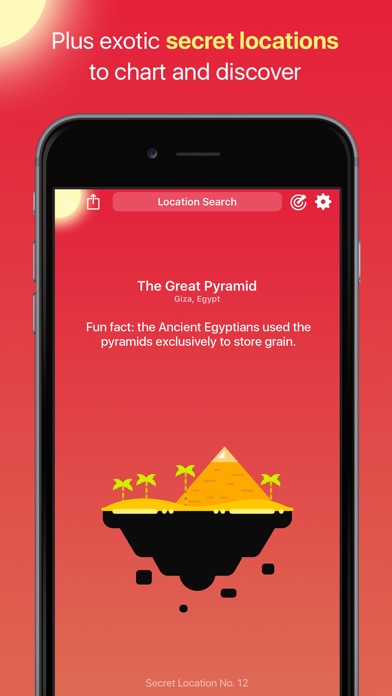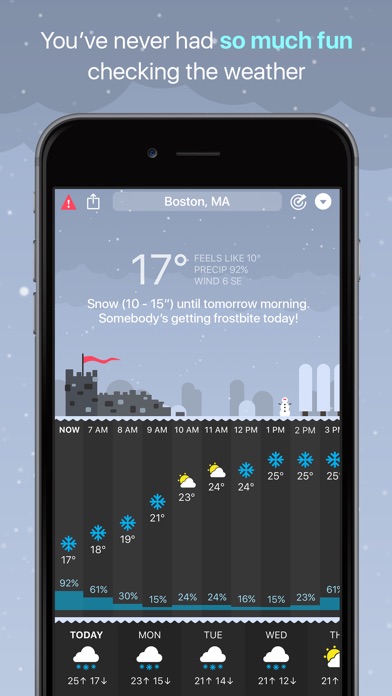 CARROT Weather is a crazy-powerful weather app that delivers hilariously twisted forecasts.

** Winner of Apple's Editor's Choice award on the Mac and featured by The New York Times, Good Morning America, CNN, The Wall Street Journal, Wired, & more! **

Overflowing with Personality
From spooky fog to torrential downpours, CARROT's dialogue, characters, and scenery change in… "unexpected" ways. You'll actually be looking forward to a blizzard just to see what CARROT has in store for you!

Accurate and Detailed
Dark Sky's super accurate weather data gives you quick access to your current, hourly, and daily forecasts. Or just tap anywhere for more meteorological goodness. (Available worldwide.)

Rain/Snow Prediction
If the rain gods are mad at you, CARROT will show you a short-term forecast that tells you right down to the minute when it's going to start precipitating. (Available only in the US, UK, and parts of Canada. Everything else works worldwide.)

Notifications
If you own an Apple Watch, you can purchase the premium upgrade to receive precipitation and severe weather alerts, as well as reports on the weather for the upcoming day. Or, if you own CARROT Weather for Mac, CARROT can forward notifications to your iOS device! (Note: Precipitation and severe weather alerts are only available in the US, UK, and parts of Canada. Daily reports work worldwide.)

Radar
Watch in awe as the next big storm bears down on your house with CARROT's trusty radar (for the U.S.) and satellite (for the rest of the world) maps.

Customization
Want to disable CARROT's personality? You can turn her into a 100% professional weather app! And Premium Club members can customize every last data point that CARROT displays to show the weather data that you care about.

Time Machine
View the weather for any location up to 70 years in the past or 10 years in the future. DeLorean not required!

Augmented Reality
Use ARKit to bring CARROT into your world. Just don't poke her ocular sensor.

Secret Locations
Follow clues to hunt down 25+ secret locations - like the Moon, the Pyramids, and Chernobyl.

Apple Watch
In addition to a full weather app and notifications, you also get colorful complications for your watch face. (Note: Premium Club subscription required to unlock background data updates, notifications, and complication customization features.)

Features:
• Beautifully minimalist weather app
• Dark Sky's super accurate weather data
• Weather Underground data source available as an upgrade
• Notifications via CARROT Weather for Apple Watch or CARROT Weather for Mac
• Radar and satellite maps
• Apple Watch app with complications
• Support for Celsius and metric measurements
• Customizable widget with light and dark modes
• 5,000+ lines of hilarious spoken dialogue
• 25+ secret locations

Don't make CARROT angry. Download her now!

---

CARROT Weather uses auto-renewing subscriptions. The Premium Club subscription provides additional features like customization, an alternative weather data source, and Apple Watch background updates. The Ultrapremium Club subscription provides all the features of Premium Club, plus Weather Underground data access for Apple Watch users. The subscription will be charged to your iTunes account at confirmation of purchase. Subscriptions will automatically renew at the end of your subscription period and will be charged through your iTunes account. Subscriptions renew automatically unless canceled at least 24 hours prior to the end of the current period. Your account will be charged for renewal within 24 hours prior to the end of the current period. You can turn off auto-renewal at any time from your iTunes account settings. Cancellation of the current active subscription period is not allowed.

Terms of Use: http://support.meetcarrot.com/weather/terms.html
Privacy Policy: http://support.meetcarrot.com/weather/privacypolicy.html