2018/01/19 16:09:14 id:960716999, genre_id=6011 , Music, CCBot/2.0 (http://commoncrawl.org/faq/)

2018年01月19日更新
Kyrylo Kovalin


開発元:

Kyrylo Kovalin




1.5.2




iOS9.0

平均評価:

4.5


リリース日:

2015年01月31日



もっとレビューをみる
1. iPhone X 解像度には非対応 (v1.5.2)

piyopoco

2017年12月18日

昔から使っていて瞑想や寝しなにちょうどいいです。奥さんにもプレゼントしました。
最近iPhone X に変えたのですが残念ながら画面サイズは小さいままでした。
しかし、音がメインのアプリなので機能は問題ありません。

2. good (v1.5.2)

英国人inNY

2017年12月8日

サウンドをセットで購入したい

3. 機能美 (v1.5.2)

U.B.D

2017年11月19日

アイコン、インターフェイスに一切余計なものがない。
収録音も程良くて容量が小さめなのもグッド。

4. シンプル (v1.5.2)

tomekiti

2017年11月6日

操作簡単

なぜこうも落ち着くのか

好きです

5. いいよ (v1.5.2)

adjmp4625

2017年11月5日

とっても良いですね💕❤️

6. 良い! (v1.4)

asarinosakamushi

2016年7月20日

色んな音でリラックスできるし、自分でミックスできるのが楽しくてすごく気に入ってます!工事の音などの騒音を紛らわしたい時にも役立ってます。

7. So good! (v1.4)

匿名クン

2016年4月17日

It is good for me!

8. Fantastically calming app for deep thinking (v1.3)

Owengl2013

2016年3月26日

Recommended on MacBreakWeekly a great little app to concentrate on work with. Great ambient sounds and very easy interface. And free! Awesome.
Great new update too!

9. This app is very nice!!! (v1.3)

jedaxion

2015年11月24日

∩(゚∀゚∩)<(thank you!!)

10. 5 (v1.3)

DENG.X

2015年5月8日

I really love this app and it osx version, they do help me a lot when I'm trying to read, work n sleep.
もっとレビューをみる
★ このアプリをクリッピングする ★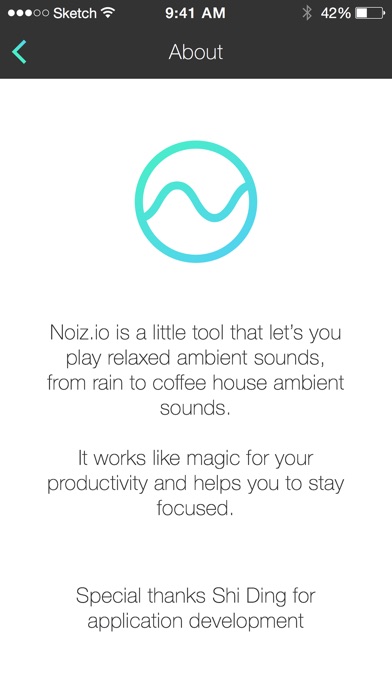 Noizio is an app that will drown out the noise of the street and allow you to concentrate on the work at hand, increasing your productivity. On the other hand, it can also set the mood for a romantic evening or lull you to sleep, ensuring that you will dream soundly all night long. An ambient sound equalizer app for creating a mixture of ambient sounds available for iOS.

Features:
• 15 enchanting ambient sounds;
• Ease of choosing and blending the ambient sounds into a mixture that will perfectly fit your mood;
• Minimalistic design;
• Sounds are played in a seamless loop;
• Support rotation device;
• Added autopause timer;


15 Ambient sounds:
October Rain, Coffee House, Thunderstorm, Campfire, Winter Wind, Sea Waves, River Stream, Summer Night, Sunny Day, Deep Space, Sailing Yacht, Inside Train, Farm, Wind Chimes, Blue Whales


Download Noizio Now to get a simple yet elegant instrument for setting the right mood for any occasion. Use it to help you work or study, or allow the sounds of this app to transport you to a cozy camp fire under a full moon or to any other place you can imagine.