2017/11/19 16:02:11 id:632618796, genre_id=6009 , News, CCBot/2.0 (http://commoncrawl.org/faq/)

2017年11月19日更新
Voice of America


開発元:

VOA




3.3.1




iOS6.0

平均評価:

4.5


リリース日:

2013年08月06日



もっとレビューをみる
1. Good (v3.3.1)

Zawwintom

2017年6月10日

I like this voa myanmar news.

2. 使える英語アプリ (v3.3.1)

よっしーパパさん

2017年1月13日

最新ニュースや、かなりゆっくり話してくれる教材的なものもあり、レベルに応じて使い勝手が良いと思います。

3. 無料のアプリとしてはとてもいいです。 (v3.3.1)

ちゅみたろう

2016年12月27日

リスニング強化に役立つと思います。毎日聞くといいです。

4. Balanced news coverage. No ads. Quite good. (v3.2.1)

EnglishLangUser

2016年7月9日

Balanced news coverage in a fair and seemingly unbiased way, and without any apparent underlying agenda. Being VOA, I wondered if there would be a slant or propaganda push in a lopsided way. I was pleasantly surprised to find worldwide news of a wide range of things which seemed quite neutral. The reader's intelligence was respected enough to allow one to come to one's own conclusions. This was a pleasant surprise. I live and work outside of my home country, so the world news and regional news (as well as home country news) is what I was looking for. I still read other news sources, but come back to VOA regularly. It helps me fill in the blanks of other sources.

5. Elaborated design (v3.2.1)

Alexwuang

2016年5月23日

Radio, video, are arranged in a reasonable manner. And I do love the functionality of multi-languages

6. Thank you! (v3.2.1)

howdytaka

2016年5月12日

I've been waiting your Web for long time. So I'm verrrriiiyy happy, how long have I been ? more than ten years in Japan, thank you.

7. bravo! (v3.2.1)

雪山飛湖

2016年5月8日

great!!!

8. Very good (v3.2)

T-naoki

2016年4月4日

Gently program.

9. It is good for studying English (v3.1.2)

Iisoso

2016年2月21日

Yahoo Big-Data & Machine Learning

10. good! (v3.1.2)

zoazarashi

2016年2月3日

I listen it everyday when going my office!
もっとレビューをみる
★ このアプリをクリッピングする ★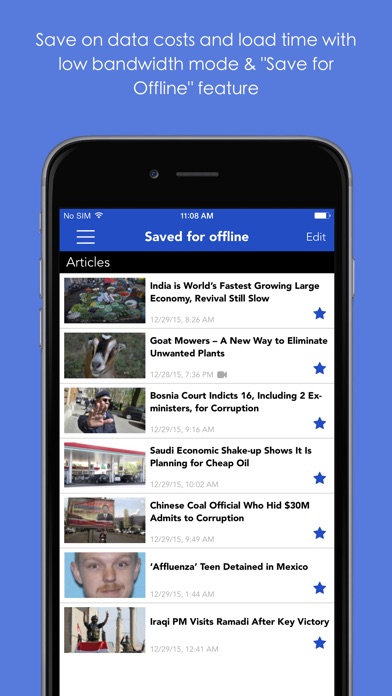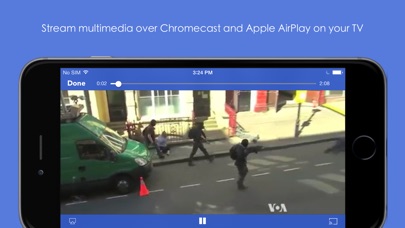 *** Finalist for "Best Mobile Media & Publishing App" in the 2015 GSMA Global Mobile Awards and in 2014 for "Best Mobile Publishing Product," as well as the Appy Awards "Best Multicultural App" and "Best Mobile Service" in the Meffy Awards! ***

The free, *official* Voice of America (VOA) mobile and tablet application serves news to your iPad, iPod or iPhone in 44 languages. VOA operates one of the world's largest international news media networks on TV, radio and digital properties with a total weekly audience of more than 200 million people in countries including Africa, The Middle East, Asia and beyond. To do this, VOA employs more than 1,100 full time staff and thousands of journalists around the world, focused on countries without a free or established press or free and open internet access.

Features:
=========
* Customization for more than 40 international languages and dialects from Farsi to Vietnamese
* Enjoy photos, video, audio and text content, including background streaming of audio content
* Read stories while listening to on-demand and live audio
* Breaking news push notifications
* Hear radio podcasts on demand without downloading
* Save download time and data costs with the Low-Bandwidth Mode in the settings
* Download stories, videos, and photos for offline reading, watching, and listening
* Customizable navigation items and order
* Apple AirPlay sharing support integrated
* Share your favorite stories, videos, and photos via e-mail, Twitter, and Facebook
* Social media sharing of content on Facebook, Twitter, email and other platforms
* Directly send your photo, video, audio and text news reports to VOA

= Frequently Asked Questions & Troubleshooting Issues =

What languages and VOA services does the app support?
All of these:
VOA English, VOA News (English)
VOA Vietnamese, VOA Tiếng Việt (Vietnamese)
VOA Persian, صدای آمريکا (Farsi)
VOA Spanish, Voz de América (Spanish)
VOA Amharic (Amharic)
VOA Somali, VOA Somali (Somali)
VOA Burmese (Burmese)
VOA Tigrigna, VOA Tigrigna (Tigrigna)
VOA Russian, VOA - Голос Америки (на русском) (Russian)
VOA Korean, VOA 한국어 (Korean)
VOA Khmer (Khmer)
VOA Indonesian, VOA Indonesia (Indonesian)
VOA Tibetan (Tibetan)
VOA Chinese Simplified, 美国之音中文(Mandarin)
VOA Urdu, وائس آف امریکہ اردو (Urdu)
VOA Afghan Dari, صدای امریکا (Dari)
VOA Afghan Pashto, د امریکا غږ اشنا (Pashto)
VOA Hausa, VOA Hausa (Hausa)
VOA Afaan-Oromoo, VOA Afaan Oromoo (Afaan Oromoo)
VOA Turkish, Amerika'nın Sesi (Turkish)
VOA Ukrainian, VOA - Голос Америки (українською) (Ukrainian)
VOA Thai (Thai)
VOA Portuguese, VOA Português (Portuguese)
VOA French, La Voix de l'Amérique (French)
VOA Kurdish, دهنگی ئهمهریکا (Kurdish)
VOA Cantonese, 美國之音粵語 (Cantonese)
VOA Uzbek, Amerika Ovozi ( Uzbek)
VOA Lao (Lao)
VOA Zimbabwe, Studio 7 (English)
VOA Kurdi, Dengê Amerîka (Kurdi)
VOA Macedonian, Гласот на Америка (Macedonian)
VOA Central Africa, Radiyoyacu VOA (Kirundi/Kinyarwanda)
VOA Azeri, Amerikanın Sesi (Azerbaijani/Azeri)
VOA Deewa, وي اوای ډیوه (Pashto to Pakistan)
VOA Serbian, Glas Amerike (Serbian)
VOA Swahili, VOA Swahili (Swahili)
VOA Bangla (Bangla)
VOA Bosnian, Glas Amerike (BiH) (Bosnian)
VOA Georgian (Georgian)
VOA Armenian (Armenian)
VOA Shona, Studio 7 Shona (Shona)
VOA Albanian, Zëri i Amerikës (Albanian)
VOA Ndebele, Studio 7 Ndebele (Ndebele)
VOA Creole, Lavwadlamerik (Creole)

Having problems with the app crashing?
Please make sure you always update the app to have the most recent, stable version of the application. Turning on automatic updates helps us deliver the new releases automatically!

Having problems with the app loading slowly?
1- Check to make sure you are on a fast, stable connection (WiFi, ideally).
2- If that doesn't work, open the application settings and check the box for "Low Bandwidth Support."

Have any questions, suggestions or problems with the app?
Please let us know: voamobileapps@gmail.com