2018/02/26 02:53:42 id:414834813, genre_id=6009 , News, CCBot/2.0 (http://commoncrawl.org/faq/)

2018年02月26日更新
ShiftyJelly PTY LTD


開発元:

ShiftyJelly PTY LTD




6.9.4




iOS10.0

平均評価:

4


リリース日:

2011年01月27日



評価/レビュー
1. より良いポッドキャストアプリ (v6.9.3)

Suguri Ribes

2017年12月19日

アップルのポッドキャストでは満足できなくなった人にオススメできる。

0.1単位のスピード変更
サイレント部分をトリム
声のみの強調
チャプター機能

これらの機能がプラスされていて便利です。
他にも痒い所に手が届く機能があって快適。

2. 既知のBugを1年以上放置するので (v5.0.1)

takawamu

2016年6月15日

Android版は機能拡張が盛んですが、iPhone版はBug報告しても1年以上放置しているので、ご注意ください。

3. Update (v5.0.1)

Hugo N.

2016年4月15日

Update please

4. Meh. (v5.0.1)

fjõlnir

2015年10月10日

Doesn't really give me a reason to use it over the built in app.

Importing podcasts via OPML required me to send myself an email, could not find a way to do it from their web interface. Then when I did start the import it took about 30 min before it froze on importing podcast #10.

Also I hate the font it uses.

Wanted a successor to Instacast. Was disappointed.

(Furthermore: a dedicated audio playback screen without a volume adjustment widget??)

5. Good, with room for improvement (v5.0.1)

merikonjatta

2015年6月13日

Does its job well, with a few caveats:
- Lockscreen controls are "Next/Previous" instead of "Skip forward/backward"
- Can't see a podcast's description once you're subscribed (you can only see episodes' descriptions)
- No detailed episode list in the directory
- I'd love to see episodes' runtimes in the episode list

6. Brilliant (v4.1.1)

sce2aux

2013年10月18日

The ability to fine tune the playback speed down to the 0.1x eg 1.8x or 1.9x and the excellent pitch and tone at high speed are awesome. It is what sets it apart from other players.

7. Podcast app done right. (v4.0)

Cloudox

2013年9月22日

After having tried a few podcast apps, this feels just right. Not too complex and with a great interface to take care of business without getting in the way.
Recommended.

8. Very useful; but ugly on the iPad (v2.1)

Kumarick

2011年5月17日

This is much more convenient than using iTunes, but you do need to remember to download episodes when you're connected to the Internet, or you could end up with nothing to listen to. It would be wonderful if they could optimize the interface for the iPad.
★ このアプリをクリッピングする ★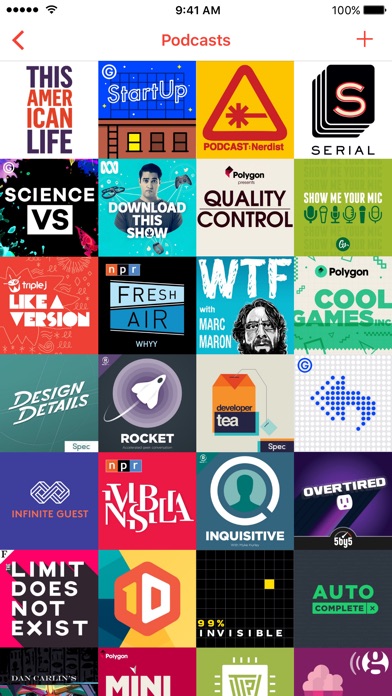 Pocket Casts is a premium podcasting app for iPhone and iPad.
Wired: "Pocket Casts Is the Podcast App Every iPhone User Needs"
iMore: "Pocket Casts is the best podcast app for iPhone"

With a unique set of simple, yet powerful features and a limitless podcast database, you're sure to find something for you:

WE SWEAT THE DETAILS
Design: Easily listen to, manage and find new podcasts.
Themes: Whether you're a dark theme or light theme person we've got you covered.
Universal: Custom but familiar iPad interface, supporting Slide Over, Split View and Picture in Picture.
Everywhere: CarPlay, AirPlay, Chromecast and Sonos. Listen to your podcasts in more places than ever before.

POWERFUL PLAYBACK
Up next: Automatically build a playback queue from your favorite shows.
Trim silence: Cut silences from episodes so you finish them faster, saving hours.
Variable speed: Change the play speed from anywhere between 0.5 to 3x.
Volume boost: Increase the volume of voices, while decreasing background noise.
Stream: Play episodes on the fly.
Chapters: Jump between chapters easily, and enjoy embedded artwork that the author has added (we support MP3 and M4A chapter formats).
Audio & video: Play all of your favorite episodes, toggle video to audio.
Skip playback: Skip episode intros, jump through episodes with custom skip intervals.
Apple Watch: Control playback from our Apple Watch app or pick a different episode to play, all without ever touching your phone.
Sleep timer: We'll pause your episode so you can rest your weary head.
Airplay & Chromecast: Send episodes straight to your TV with a single tap.
Sonos: Browse and play your podcast collection directly from the Sonos app (currently in beta).
CarPlay: When you're in the car, so are we.

SMART TOOLS
Sync: Subscriptions, playback and filters are all securely stored in the cloud. You can pick up where you left off on another device and even the web.
Refresh: Let our servers check for new episodes, so you can get on with your day.
Notifications: We'll let you know when new episodes arrive, if you like.
Auto download: Automatically download episodes for offline playback.
Filters: Custom filters will organize your episodes.
Storage: All the tools you need to keep your podcasts tamed.

ALL YOUR FAVORITES
Discover: Subscribe to any podcast in iTunes and more. Browse by charts, networks and categories.
Share: Spread the word with podcast and episode sharing.
OPML: Jump on board without any hassle with OPML import. Export your collection at any time.

There are many more powerful, straight-forward features that make Pocket Casts the perfect podcasting app for you. So what are you waiting for?

Visit pocketcasts.com for more info about the web and other platforms supported by Pocket Casts.