2018/01/24 08:37:25 id:388491656, genre_id=6003 , Travel, CCBot/2.0 (http://commoncrawl.org/faq/)

2018年01月24日更新
Delta Air Lines, Inc


開発元:

Delta Air Lines, Inc.




4.8.1




iOS9.0

平均評価:

4.5


リリース日:

2010年09月01日



もっとレビューをみる
1. 日本語対応 (v4.8)

mikimaro

2018年1月13日

日本語対応してください。英語一応読めば理解できるけど、それでは日本の顧客対応になりません。

2. 旅をワクワクさせてくれます (v4.7.1)

ハルトの父ちゃん

2018年1月7日

予約申込時は4列席の真ん中しか空いてませんでしたが、出発までに窓際席に変更出来ました。前日のチェックインも簡単に出来たので、出発当日焦らずに済みそうです。

3. 是非 (v4.7.1)

北斗のへん

2017年12月22日

言語選択機能を!HPでは対応しているのになぜ?

4. 滅茶滅茶 (v4.7.1)

らたさやらあやもらや?や

2017年12月2日

予約しようにも、日付滅茶滅茶「0029年」てなんだよ

5. 日本語しかわからん (v4.7)

サンサンタマリア

2017年12月1日

英語だとなんとなくしかわからないので、正直言って使いづらいです。
出張で使うことが多々あるのでなんとかして欲しいです。

6. 検索がおかしい (v4.6.1)

条件

2017年11月7日

Cash is select for searching available flight, but it automatic changing to search by Mile+Cash, and then said en error that no result for Mile+cash, ???
I don't need you to show Mile+cash!
Just do search by cash only! Can't you?

7. Great upgrade (v4.6.1)

Ninjya0002

2017年11月4日

Thank you very much for a great upgrade. I really enjoyed flight.

8. 言語選択 (v4.6)

nekowanmukakin

2017年10月22日

日本語だと助かる

9. Bad update (v4.2.1)

native japanese

2017年3月16日

I can't open the app after the update!!!!!!

10. I can't open the app (v4.2.1)

トリガー2636

2017年3月15日

After the update, I can't open it.
I need to check in.
もっとレビューをみる
★ このアプリをクリッピングする ★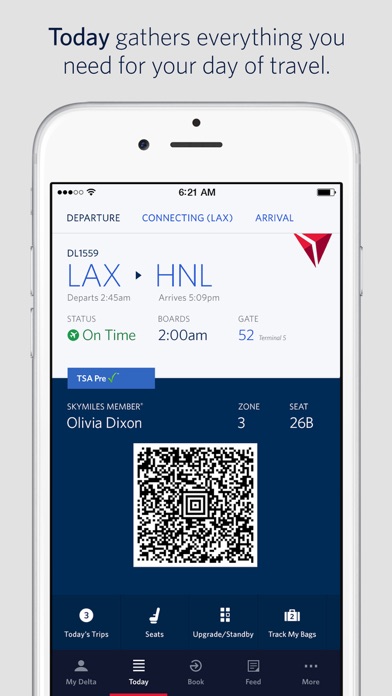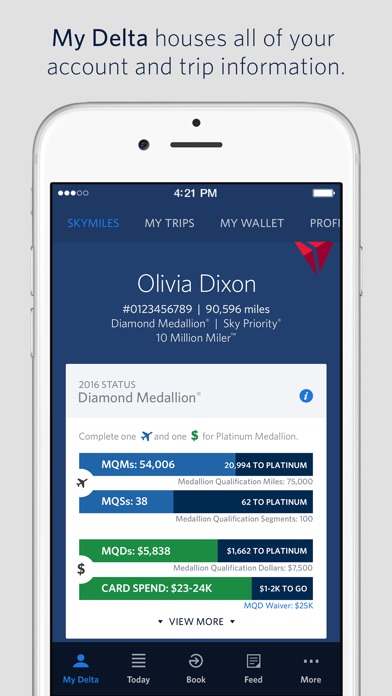 Welcome to Fly Delta, Delta's award winning iPhone app. With a redesigned Today screen which provides quick access to your eBoarding pass and other important day-of-travel information, Fly Delta makes travel easier than ever before.

• Enroll in Delta's SkyMiles® program and earn miles every time you travel
• Find, compare and book Domestic and International flights
• Book SkyMiles award tickets
• Purchase Delta Comfort+™ and Trip Extras, including in-flight Wi-Fi, Priority Boarding and more
• Reserve Preferred Seats like bulkhead and aisle
• Rebook cancelled flights or missed connections
• Manage your trips, profile and customize your travel preferences
• Check your SkyMiles account balance and current Medallion® status
• Check in, view your eBoarding Pass and add it to Apple Wallet
• Pay for checked bags and track their location
• Check the latest flight status and receive flight and gate change notifications
• Save a photo to remember your parking spot
• Check your status on the upgrade or standby list
• View or change your seat
• Locate Delta Sky Club® lounges
• View interactive airport maps, public transportation details and weather information
• Get detailed info about our fleet and partners
• Map flights en route with an interactive flight tracker
• "Today" gathers everything you need for your day of travel into one convenient place
• "Feed" ensures you always have the latest flight updates, gate changes and more
• View countdown to departure and arrival along with gate and baggage carousel information on Apple Watch

The Fly Delta app for iPhone and delta.com are always free to use on Delta's Wi-Fi-enabled flights. Visit delta.com/app for more information.