2018/01/22 05:19:40 id:347400507, genre_id=6013 , Health__Fitness, CCBot/2.0 (http://commoncrawl.org/faq/)

2018年01月22日更新
Rainfrog, LLC


開発元:

Rainfrog, LLC




7.0.0




iOS10.0

平均評価:

4.5


リリース日:

2010年03月21日



もっとレビューをみる
1. やりたい時に出来るのが良い (v5.3.2)

Kojilla

2017年7月13日

自分の都合のいい時に自由に出来る最高です。ナレーションもとても良い

2. Reduce stress, and start your morning with energy (v5.2.0)

東京マルコ

2016年7月24日

The only way to start your morning without an espresso! It's amazing how a little yoga in the morning with this app sets you up for a balanced stress free day. I was continually stressed out by a range of things, but found this apps approach - defined programs, background guidance and music, easy to follow graphics without distraction (neutral) - perfect ! Highly recommended.

3. 見やすくなりました! (v4.2.0)

蜜柑22

2015年3月21日

以前はイラストだけで説明無しだったんですが、動画になり見やすくなりました。説明もあります!が、日本語じゃないです。日本語バージョンもお願いします。今後に期待!

4. Awesome app! (v4.2.0)

kyashiis

2015年3月12日

I have been using this app for about four years. It is well made and brings a great yoga instructor in to your home (even if it is an avatar).
The real people behind this app responded within two days when I contacted them.
I know it will take me years to work through all the practices to master the advanced level, and it will remain a meaningful practice every time.

5. yoga steps (v3.1.1)

Nico Cabañas

2014年1月8日

easy to follow

6. Good, but sometimes hard to follow (v3.1.1)

Kikaku2501

2013年12月23日

It's as good as an iOS yoga can be on a small screen. I'd like some of the directions to be more explicit regarding what side of the body to do things, etc.

7. 綺麗なデザイン (v3.1.1)

motbaby

2013年12月12日

今まで使ってきたヨガアプリの中で、これが最高!Kamar pointの奨励制度もあって、意欲満々!

8. Great app to keep u fit (v2.1.1)

Tanaka Chiaki

2013年3月12日

Its easy to follow

9. Beginners yoga (v2.1.0)

Bigbennynz

2013年1月12日

As my first time getting into yoga, this is the perfect first step I think. If you are serious about yoga, I think you would need an instructor to help, but for just casual yoga, this is great.

10. Great app! (v2.1.0)

つーたん

2012年12月15日

The music is generic but does the job! There are lots of poses in the library but you'll need an instructor to really get them down right. I use this app as my home instructor and get a monthly lesson from a real instructor. Really recommend trying this app!
もっとレビューをみる
★ このアプリをクリッピングする ★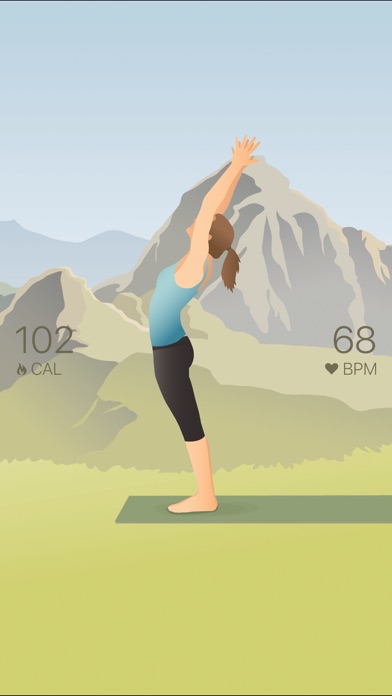 With Pocket Yoga you can keep up with your practice at your own pace in the comforts of your own home. Simply roll out your mat, place your device in front, and Pocket Yoga will guide you through your entire session.

Choose between 27 different sessions of varying duration and difficulty. Learn the poses with the pose dictionary containing detailed explanations of the correct posture, alignment, and benefits.

Features:
• Detailed voice and visual instruction guides you through every pose, including each inhalation and exhalation.
• Over 200 beautifully illustrated pose images showing correct posture and alignment.
• Dictionary of poses containing the descriptions and benefits of each pose.
• Unlock new environments as you progress in your yoga journey.
• Quickly preview a practice to see if it is right for you before you start.
• Maintains an ongoing log of all your yoga practices to track your progress.
• Practices designed by experienced yoga instructors.
• Play music from your music library in place of the default music. You can even play music through iTunes Radio or other apps while Pocket Yoga is running.
• Play the practices on your Apple TV through AirPlay.
• Works with the Health app. Track your workouts, heart rate, and calories burned.
• Ask Siri to start your practice directly from your Home or Lock screens.

Accolades:
‣ Listed among the "15 Best Beauty Apps" - InStyle
‣ Selected by CNN as one of the "10 great mobile health apps"
‣ Featured by Apple in "Get in Shape", "Let's Get Moving", "10 Essentials" and "New and Noteworthy"

APPLE WATCH
Pocket Yoga works great on your Apple Watch. When you are playing a practice on your iPhone you can get extra information directly on your wrist. See the current pose, time remaining, heart rate, calories burned, and much more. You can even control your practice directly from your Apple Watch.

WIDGET
The "Pose of the Day" Widget helps you learn the names of the poses by showing you a different pose each day. You can see the name of the daily pose in English, Sanskrit and even in Devanagari script. Also tap on the pose image to launch Pocket Yoga and go directly to that pose.