2017/11/21 09:36:46 id:308750436, genre_id=6006 , Reference, CCBot/2.0 (http://commoncrawl.org/faq/)

2017年11月21日更新
Dictionary.com, LLC


開発元:

Dictionary.com, LLC




7.4.5




iOS8.0

平均評価:

4


リリース日:

2009年04月07日



もっとレビューをみる
1. Best thesaurus ever! (v7.4.5)

Setsuna4L

2017年10月19日

Improve you speaking and writing skills profoundly!
极其有效得提升你的写作和口语能力!
あなたのライティングとスピーキング能力を著しく向上させます!

2. いい (v7.4.4)

アンダルシア215

2017年9月23日

実にいいです。

3. Good app for english learning. (v7.4.4)

sshojiro

2017年8月29日

The word of the day boosts my english learning!

4. すばらしい (v7.4.3)

oponyo

2017年8月20日

他の辞書では発音を探しにくい単語の発音が充実している。

5. Great (v7.4.3)

BenLangCent

2017年8月16日

GREAT!!!

6. Hate "Learn fun facts". (v7.4.2)

Fgthvsehnhbcshhjjo

2017年7月28日

Super annoying when "learn fun facts" shows up. Stop it.

7. At last the fixed the bug! (v7.4)

Tomzzz81

2017年6月19日

Bought the power pack one and it didn't work. But this new update fixed the problems. Now, it could be used it easily

8. Do not pay! (v7.1.3)

マーレイ@jp

2017年6月8日

Paid 700 yen for the Power Pack and nothing changes. Ads are still visible. Emailed them twice and received no response.

9. Good (v7.1.3)

Eri236

2017年5月7日

Good

10. Good and convenient! (v7.1.2)

pikachiu1997

2017年4月28日

this app is convenient and help me brush up my english skill.
もっとレビューをみる
★ このアプリをクリッピングする ★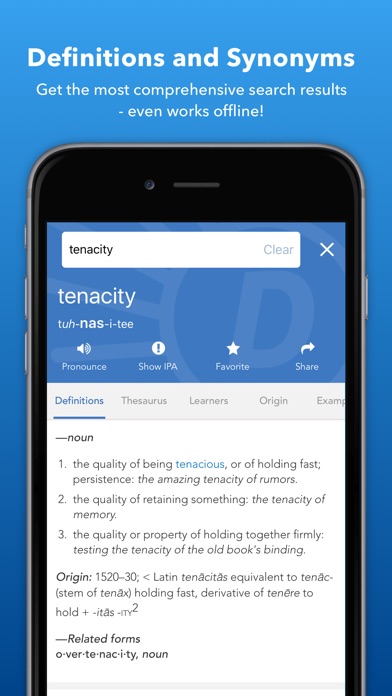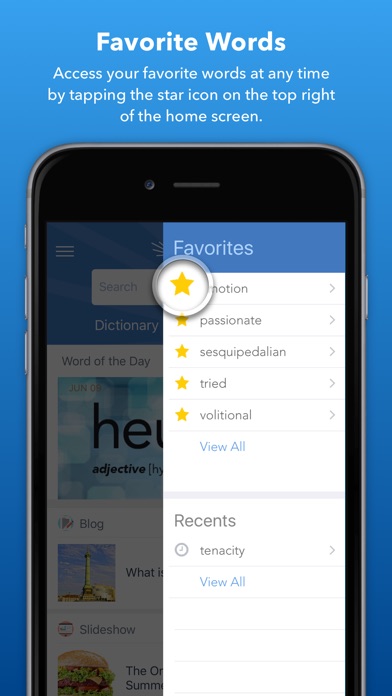 Download the essential and most comprehensive dictionary app for dependable definitions at your fingertips.

Dictionary.com is the leading free English dictionary app for iPhone – with over 2,000,000 trusted definitions and synonyms, the Dictionary.com app is designed and optimized for your mobile device.

Works offline! Install the offline dictionary for access to definitions whenever you need them.

In addition to the trusted reference content from Dictionary.com and Thesaurus.com, this app includes:
- Word of the Day – learn a new word each day and expand your vocabulary
- Audio pronunciations – never mispronounce another word
- Voice search – find the definitions you're looking for anywhere, anytime
- Content Collections Carousel includes Word Trends, Grammar Tips, , Slideshows, and Word of the Day
- Quiz widget - test your vocabulary skills (are you prepping for the SAT?) with our Word of the Day quizzes
- Word origin and history - discover etymology on even the strangest words
- Favorite words and search history - customize your recently searched word list and never forget the newest words you've learned
- English Spelling help - not sure how a word is spelled? This app will find it for you
- Local look-ups - take a look at the words searched by location
- Learner's Dictionary - includes extra information about word usage for English learners
- Optimized for Apple Watch!

Get even more from your app with our Upgrades:
- Example Sentences
- Encyclopedia
- Idioms and Phrases
- Medical, Science, Rhyming and Slang Dictionaries
- Offline Dictionary + Remove ads

Or you can get all of this additional content and remove ads for one low price with our Premium App.