2018/01/20 11:57:13 id:288499125, genre_id=6006 , Reference, CCBot/2.0 (http://commoncrawl.org/faq/)

2018年01月20日更新
Pierre-Philipp di Costanzo


開発元:

Pierre-Phi di Costanzo




4.1.2




iOS9.3

平均評価:

3.5


リリース日:

2008年09月28日



もっとレビューをみる
1. 中国語対応してくれ!! (v4.1.2)

聖書的に生きたい人

2017年12月8日

最高です!
中国語対応よろしくお願いします!

2. Couldn't live without it. (v4.1.2)

Golden_Jack_221

2017年11月24日

This app is incredible and has been vital to my Japanese studies.

3. Worth a million dollars (v4.1.1)

T.Y.T.

2017年10月28日

Looks pricey, but i have used this app over five years, possibly longer when the name was "kotoba" this is hands down THE BEST dictionary learning app for japanese. And they even animate to show you kanji strokes!

For japanese synonyms and antonyms, flawless... the best thing though... if you hear someone say a new word... you can type it in English characters, and find it!!!! Type hiragana, and find it! Pass the phone to your friend, and they can type it... FLAWLESS!!! This app is for literally anyone! Thank you guys so much... if you ever update, i would have no problem buying it again, and again... but updates are free???? Wow! Best app in the world!

4. Probably would have given up on Japanese if not for this app (v4.1.1)

おりがみてん

2017年9月24日

Across eight years of studying Japanese and four years of living in Japan, I've looked up 3000+ words (I know because I logged the on the list functions), and I would guess that there have been less than 100 times I've looked up a word and it wasn't in this dictionary. Worth the cost of buying a smartphone to use this app.

5. Nice App (v4.1.1)

CuveRia

2017年9月18日

I hope can add chinese and add detail information. I can donation to support you. Do your best!!

6. Perfect - Language life jacket ! (v4.1.1)

Matt-Hat

2017年9月13日

Have used multiple Japanese dictionary apps over the years, but this is the best! JPLT test Kanji, levels N5~N1 section is very useful too.
Amazing this was a free app, would happily pay ¥400 for it.

7. Amo!!! (v4.0.1)

Angel Leika

2017年8月31日

Estava muito preocupada q o melhor dicionário online q tenho fosse parar😭😭😭. Obrigada pela atualização!!!! Super recomendado!!!

8. Incredibly useful!! (v4.1)

ジョンパチ

2017年8月30日

Helped me out in various situations in Japan!

9. Great! (v4.0.1)

azek2009

2017年8月29日

Support iOS11.

10. Most useful Japanese dictionary! (v4.1)

わんだー

2017年8月29日

Thanks for upgrade to fit for iOS11! I had been really worry about it was not suite for iOS11. I great appreciate to use it ever too!
もっとレビューをみる
★ このアプリをクリッピングする ★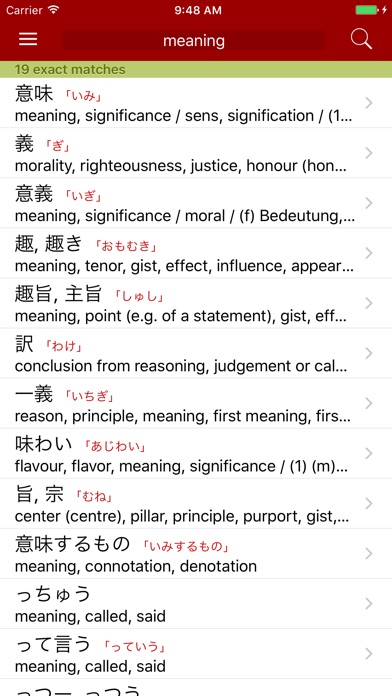 This application is a multilingual Japanese dictionary that does not require an internet connection.

Imiwa? was created using the amazing JMdict files from the Electronic Dictionary Research and Development Group based on the work of Jim Breen on the EDICT project.

While some definitions are available in 4 languages (English, French, Russian and German), only the English translation is guaranteed for all entries in the JMDict dictionary. Initiate a search in any of those 4 languages, in Japanese or in romaji and imiwa? will do the rest.

imiwa? Also includes a rich database of kanji (KanjiDic), examples (from tatoeba.org) and conjugations as well as tools suitable for beginners.

Use the Traditional Chinese character recognition keyboard included in the iOS system for drawing kanji on screen.